An extension of the room into an outdoor living space, these sophisticated yet durable shade solutions are easy to love with superior standards for construction. They are made in a variety of shading options that inspire and enhance any outdoor setting.  Whether you are looking for retractable or stationary canopies, vertical shades, or aluminum awnings, these custom awning systems come in many elegant, beautiful, and functional styles to create cool, comfortable outdoor spaces that protect you and your family or your guests from the elements.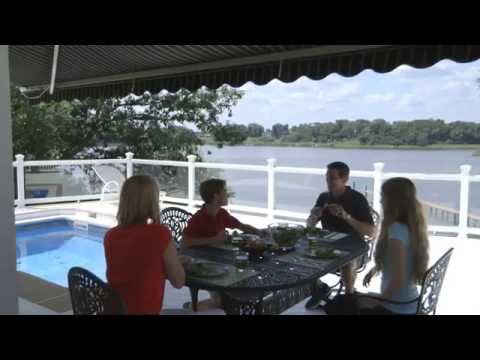 Retractable Awnings
A versatile alternative that provides more control over when and where you want the sun to shine. Retractable drop arm awnings can be extended to within 15 degrees of vertical to provide maximum privacy and shading.
Vertical Drop
Uses the same components as the Minisol retractable awning, but without the arms.
Drop Arm
We offer retractable drop arm window awnings that make use of the same spring-loaded arm components, The drop arm awning also incorporates an attractive extruded aluminum hood to protect the fabric and provide a more finished appearance. For smaller windows (up to a maximum width of 12 inches), we offer an option for a retractable, pull-tape-operated awning.
Drop Arm Retractable Awning for Large Windows
The drop arm retractable awning is a versatile awning that is intended for larger window areas on home or office buildings. Like its smaller cousins the Atlanta and Minisol, the awning has a range of operation from fully retracted to within 15 degrees of vertical when fully extended.  Our manufacturers use durable components in the Robusta allowing the manufacturer to assemble units that can span up to 25' or more. The Robusta comes standard with smooth German Geiger worm gear for crank operation or, optionally, can be operated by means of motorization.
Vertical Awnings
The state-of-the-art STOBAG vertical awning gives you space to express your creativity.

 And the broad range of this vertical awnings offers numerous solutions for practically any application. Whether fitted with delicate wire rope guides or wind-resistant, internal fabric guidance with zip principle, thanks to the elaborate and tested technology, modern facade shading provides optimum room temperatures and the desired level of sun protection and privacy.
Attractive and efficient vertical shades or facade shading offer many commercial applications, including:
Glass facades
Textile vertical shading contribute to reducing energy consumption in buildings
Architects use its "green" aspect and often use facade shading as a design element in buildings
Vast choice of colors and high-performance materials inspire facade planners create new shading concepts
Tailor-made and offer a full range of options
Use of tried and tested brand fabrics with up to 100% UV protection guarantee maximum safety and functionality
Choice of more than 400 cover designs and thousands of color combinations
Depending on the model, vertical awnings come with a manual crank or use a motor, which can also easily be operated via remote control or sun/wind sensors
Aluminum Awnings
Aluminum awnings are one of the most affordable and durable awning and canopy choices to place over windows that endure a lot of direct sunlight or to cover a patio or deck to protect outdoor spaces from sun and weather. We offer compact folding arm awnings, with many unique features, including:
a hidden triangular mounting bar
solid aluminum folding arms with integrated tension spring
double stainless steel cables and cable protection over the center arm joint
a rounded front rail that when retracted, gives the awning an elegant appearance and protects against the weather
wall or soffit mounting, or the option to mount the awning system on roof rafters
easy continuous angle adjustment that can move with the sun using an adjusting screw on the arm bearing
optional retractable valance can be installed with up to 8' of fabric drop for units with 11'6" projection or less
options to cover with acrylic fiber from the Sunbrella/Dickson collection
The Select series Ombramatic S8135 is fitted with an additional easy-running bevel gearbox allowing manual angle adjustment of both arms simultaneously by an operating handle. The adjustable hood with end stop and free wheel provide a perfect finish to the front rail and hood.
Note: Certain awning sizes require a motor. For example, the STOBAG version with a 13′ projection is fitted with special folding arms and additional arm supports and must be motor driven.